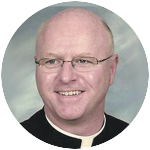 Dam of wealth removed by trust in God – Catholic Philly
By Mgr. Joseph Prior • Posted on October 8, 2021
(See the Readings for the Twenty-eighth Sunday in Ordinary Time, October 11.)
Have you ever encountered an unexpected roadblock? Lots of people have them and it can be frustrating. You are trying to reach a destination, then all of a sudden you have to stop. It's especially annoying if you're trying to get somewhere on time.
This Sunday's Mass readings deal with some potential roadblocks and some tips on how to avoid them on the road to life. The theme of this section of Mark's gospel actually began a few weeks ago and continues today.
The passage begins with the story of a man asking Jesus this eternal question: "What must I do to inherit eternal life?" Jesus responds by quoting several of the covenant commandments: "You shall not kill; You must not commit adultery; you will not steal; you will not bear false witness; you will not cheat; Honor your father and your mother. "
The man replies that he has observed them since his youth. Jesus looks at him with love and says, "You are missing something. Go, sell what you have and give to the poor and you will have treasure in heaven; so come follow me.
Saint Mark tells us that when Jesus said this, the man's face "fell and he went away sad, for he had a lot of goods". The first part of this meeting sets the scene. The question, again, is "what must I do to inherit eternal life?" The commandments are a good starting point for this journey, but they are not the end in themselves. It seems that the man was missing something that Jesus could read from their meeting. The path of life has God at the center of its life. He is both a source of life and a provider. His presence gives us advice, support, challenge, encouragement and direction.
Jesus feels a kind of barrier in man that does not allow God to be at the center. In this case, it was his material possessions. When Jesus invites him to trust God by selling them for the benefit of the poor, the man runs into the roadblock and goes away sad. What is revealing about this meeting is that Jesus offers his direction with compassion and love. He knows that it will be difficult for the man to answer. The man himself goes away "sad," which may indicate an inner realization that he must do what Jesus asks but cannot call faith to respond.
At this point, Jesus addresses his disciples. He speaks of the roadblock of riches and riches using the well-known saying: "Children, how difficult it is to enter the kingdom of God! It is easier for a camel to go through the eye of a needle than for a rich person to enter the kingdom of God.
Jesus does not speak here of material objects in themselves, but seems to indicate an excess of material things. Material things are good. God created the world and gave it to mankind for proper management and use. However, if an individual, or a society for that matter, loses sight of the origin and purpose of these, then they can easily start to stray from the path of life. The accumulation of wealth can easily become consuming.
The observation of Jesus is based on a pattern quite common in human life. When this happens, the journey to the Kingdom of God may be thwarted or, in extreme cases, the person may find themselves on a completely different path. The effects of such leadership can alter not only our relationship with God, but also with family and community. We see it these days when marriages break down when one or both spouses "deviate" from work and the accumulation of property, seeking to "follow the Joneses" or similar goals. It can be devastating.
At this point we see that "wealth" can become a "roadblock" if certain things are not in place. To avoid this and other roadblocks, we receive three tips through the readings for today's celebration.
First, when the disciples ask, "Who can be saved? Jesus answers: "For human beings it is impossible, but not for God. God is the one who saves us, not ourselves. Many people who accumulate wealth are subject to the misconception or misleading idea that wealth can bring happiness and life. It is an illusion that Jesus seeks to correct. In the accumulation of goods, the person actually becomes the center of his own salvation – seeking happiness through his own device or effort. Jesus' teaching reminds us that life comes from God, just like our salvation. Living our life relying on God will keep us on the right track.
Second, the first reading, of the Book of Wisdom, reminds us of the intangible gifts that God gives and can cultivate in us. Wisdom encompasses the gifts of making good decisions and living accordingly. God gives us reason and intelligence to help us know the path of life and encourage us on the path.
Third, God also gives us the scriptures, the word of God, to help us know him and his way. The second reading of the Letter to the Hebrews describes the scriptures as "living and effective, sharper than any two-edged sword, penetrating even between soul and spirit, joints and marrow, and able to discern reflections and thoughts of the heart ". God speaks to us through his word and leads us on the path of life.
We are reminded today that the journey we are taking is a good one. It leads to a rich and abundant life now and to the fullness of life in eternity. "Road blocks" are ultimately pain in the neck. They hinder our trip. The Word of God helps us to avoid "roadblocks" on this important path so that we can fully enjoy the life that has been given to us.
***
Mgr. Joseph Prior is Pastor of Our Lady of Grace Parish, Penndel, and former Professor of Sacred Scripture and Rector of St. Charles Borromeo Seminary.