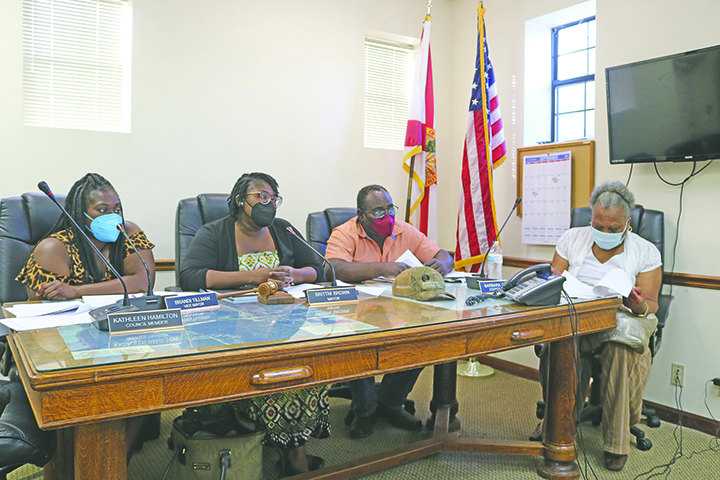 Greenville City Council Considering Salary Increase – Greene Publishing, Inc.
[ad_1]
Patrick patrick
At the regular Greenville City Council meeting on Monday, September 13, council members proceeded to the first reading of an ordinance which, if passed, would grant council members a 40 percent salary increase, or $ 100 per month on top of $ 250 per month, to $ 350 per month. A second reading of the ordinance is scheduled at the regular meeting of the municipal council on Monday, October 11. After this second reading, the council will vote on the question. If adopted by council members, the increase will take effect on Wednesday, December 1.
The board also heard a presentation from Ben Clark, Certified Public Accountant (CPA) with James Moore CPA and Consultants. Clark reviewed the city's most recent financial audit and answered questions from council members. One of the things Clark pointed out to board members was a required "financial assessment" that the state auditor general requires from auditors. "It's a pretty 'black and white' assessment," Clark said. "We take a city's numbers and put them in a spreadsheet, compare them to previous years and compare them to a benchmark that the Auditor General gives us, which is usually cities of similar size. [Then we will] come out with a note. This rating is classified as "unfavorable", "inconclusive" or "favorable". When we did this, the odds [for Greenville] was "unfavorable". Clark went on to tell board members that this shows a "financial situation that could deteriorate." I know it sounds uncomfortable. The thing I can tell you is that we do the measurements and he spits out a result. I can try to tell you some areas that can contribute to this. "During the audit of the previous year, this rating was" inconclusive ". Clark offered to provide the actual spreadsheet that led to the discovery. "I'm not planning on having fun with this, Mr. Clark," Mayor Brittni Brown said with a laugh. "The numbers, I'll let someone else do it."
Clark highlighted various important elements of the report to board members. One of them was a basic balance sheet for the city's government fund. This balance sheet showed total assets of $ 251,707 at the end of September 2020. Total liabilities stood at $ 157,367. Clark pointed out that any time you have more assets than liabilities, that's a good thing. However, one area of ​​concern could be a sharp drop in fund balances. Although the city ended the year with a fund balance of $ 94,340, that amount was well below the fund balance of $ 182,858 that the city started the year with. This net change of $ 88,518 in the fund's balance could be a "significant factor" in the audit findings, Clark told the board. Clark suggested to the board to "make sure you are constantly reviewing the budget." Looking at the numbers, general government spending totaled $ 406,653, which is a significant increase from about $ 331,000 the previous year.
In the city's property fund, Clark said it was important to look at the "net position" which was "what was left after all the bills were paid." This is also what Clark called "fairness" to the city. The city's total net position was $ 8,559,773 at year end. Clark pointed out that this was not "cash" or any kind of "liquid" asset that could be spent, but was almost entirely capital assets, such as infrastructure and so on.
Chief Executive Officer Lee Jones spoke to council about the timeline for finalizing the city's budget. The final budget hearing is scheduled to take place on Monday, September 27 at 5 p.m. The hearing will be held at City Hall, located at 154 SW Old Mission Ave., Greenville.
Council approved the advertisement for a part-time City Clerk position with the Town of Greenville. This person would be the custodian of city records and respond to public records requests made to the City of Greenville. They would also sit on the local election solicitation board. To apply, interested parties are encouraged to contact the City of Greenville at (850) 948-2251 or by email at [email protected]
[ad_2]